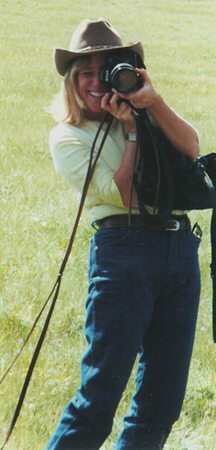 ABOUT BECKY SWIFT
For over twenty years, Becky Swift has fed ger passion for nature photography by spending time behind her 35mm camera along the coast of her native North Carolina, the north woods Wisconsin where she learned to fish, the magic of Wyoming where she embraced the outdoors, and along the dramatic coastline of southern California where she has raised her family. Her travels have taken her throughout the United States, Hawaii and Alaska, the Galapagos, Europe, Mexico and Asia. Becky's photographic skills have been enhanced through courses and workshops she has attended at Brooks Institute of Photography and Santa Barbara City College in Santa Barbara, CA.

Becky attended the 2007 Photography Workshop at the Summit in Jackson, WY where she was mentioned by some of the finest nature and wildlife photographers in the world. This past November, Becky continued on site training by attending Joyce Wilson's Portraiture Workshop held at Brooks Institute. Becky's love for nature is particularly captured in her landscapes and animal portraits. Also known for her portraitute work with children, Becky has an innate ability to capture her subjects in their most "natural" moments. Becky's latest passion is photographing homes and gardens in the Santa Barbara area.

Her work has been published in Wyoming Wildlife, Coastal Living Magazine, Santa Barbara Magazine, and Seasons. Becky lives in Santa Barbara, CA with her husband, Ted, and her two children, Dallas and Natalie.